Once in Rome – I explain you how to get there in this article – it is useful to know how to get around the Italian Capital City by public transport and by foot.
Indeed, having a walk across the historic centre of the La Città Eterna is the best way to enjoy its unique atmosphere and discover most of its places of interest. This is the reason why at the end of this article I share with you a couple of walking itineraries as suggestions for spending 24, 48 or even more hours in Rome. Bus and metro allow tourists to optimize time and distance of travelling from one area to another, though.
Getting around Rome by bus, tram and metro and tourist travel cards
The public transport system of the underground, trams and buses gets you to the major tourist sites and attractions quicker.
In my opinion, metro is definitely the best option to choose as departing from Rome Termini or Rome Tiburtina you can reach places like Circus Maximus, Colosseum, Barberini (Fontana di Trevi) and Ottaviano (Vatican City). The Rome Metro comprises three lines – A (red), B (blue) and C (green) – and you can download the public transport map on this page.
The Metrebus Rome system permits travels within its metropolitan area by bus, tram and metro with just one ticket. Fares availables are the following:
single-BIT (1,50€), valid for 100 minutes from validation;
10-BIT (15€), valid for 10 trips;
Roma 24h (7€), unlimited trips for 24 hours and valid from first validation;
Roma 48h (12,50€), valid for 48 hours;
Roma 72h (18€), valid for 72 hours;
CIS (24€), valid for 7 days.
Besides that, the Omia Card is a tourist pass valid 72 hours that includes free transportation as well as fast track entrance to Vatican Museums and Sistine Chapel, St. Peter's Basilica and access to the Basilica of St. John in the Lateran. Then, you also have free entry to 2 out of 5 top attractions together with other discounts.
To find out more about Omnia Card and book it in advance please visit this website.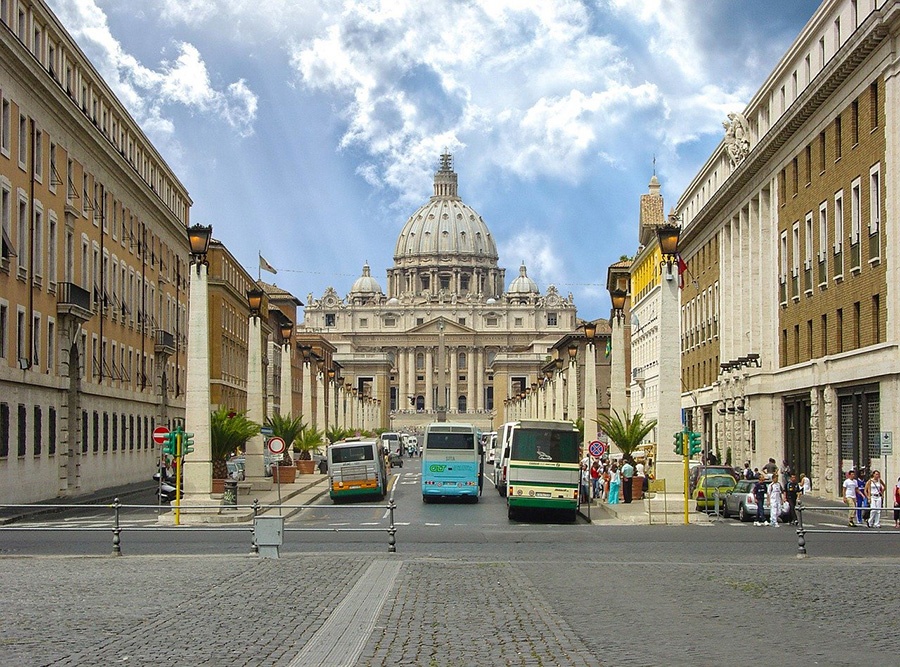 Explore Rome by boat
River Tiber has always had a primary role in the history of the city as a vital communication route and natural defence as well. Today its waters still cross Rome and many sections are navigable. So tourists have the chance to visit the city from a different and original point of view following unusual itineraries.
For example, hop-on hop-off boat trips departing from Tiberine Island take visitors to beautiful sites like Piazza del Popolo, Castel Sant'Angelo, Vatican City and nearby attractions such as the Bocca della Verità, Vatican Museums and St. Peter's Basilica. Tickets are valid for 24 hours so you can embark and disembark as many times as you wish. On board commentary in English is also included.
For more details please check the following page.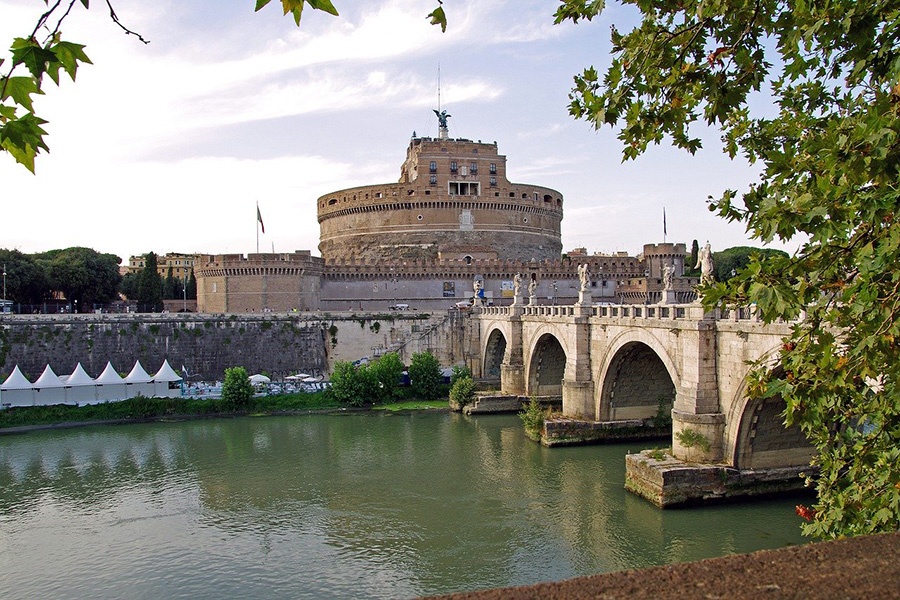 Rome by bicycle 
This is an interesting and more sustainable way to discover Rome historic centre. To ride a bicycle means having no worries about finding parking or entering in the "Limited Traffic Zone". So you can explore the city at your own pace and interests.
You can rent an e-bike to enjoy the city in an ecological and cheaper way. This service is also suitable for families with children as helmets and child seats are included. You can book it online here, cancellation is free if made up to 24 hours in advance.
Tourist buses in Rome
Double decker tourist buses take visitors on a journey through the Eternal City's history with the opportunity to admire many iconic places and monuments like for example Colosseum, Circus Maximus, Vatican City and the Trevi Fountain. The recorded commentary on board is available in 8 languages: Spanish, Chinese, English, French, German, Italian, Russian, Portuguese.
The full tour lasts around 100 minutes, frequency is every 10' between April-October and 15'-20' from November to March. Travel tickets are valid for 24-48-72 hours and allow unlimited hop on and off at any of the 8 stops of the route.
For more information and online purchase please check this website.
Two walking itineraries in Rome historic centre
Both are ideal routes in order to visit many of the top attractions in Rome. Maps should help you out with your planning.
1. Getting off at Ottaviano Metro station (Line A) you can explore Vatican City and its famous square, the Peter's Basilica and Vatican Museums before moving on to Castel Sant'Angelo. Then, on the other side of the river Tiber you can reach Piazza Navona, the Pantheon, Palazzo Montecitorio, Trevi Fountain, Palazzo del Quirinale and lastly Trinità dei Monti and its worldwide famous monumental stairway located few metres away from Spagna Metro station (Line A).
The itinerary lasts around 2 hours (visits to the interiors are excluded) and distance is roughly 7,5 Km.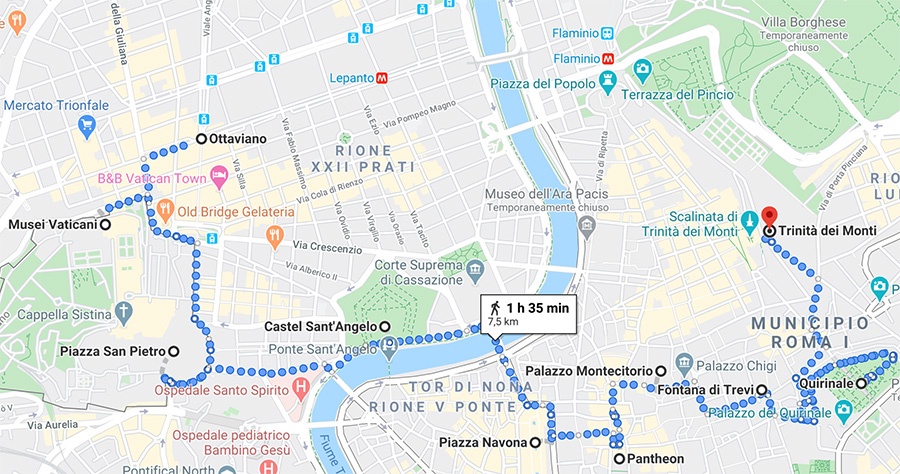 2. The trail starts off and finishes at Colosseum Metro station (Line B). It includes some of the most important sights of Ancient Rome such as the Forum, Baths of Caracalla and Circus Maximus. Then, the tour continues to the Bocca della Verità, the Isola Tiberina and the Trastevere district with its Basilica of Santa Maria. Final stops before getting back to Colosseum are Campo de' Fiori, Piazza Venezia, Victor Emmanuel II National Monument (Altare della Patria) and Trajan's Column.
The itinerary takes around 2 hours and distance is about 8 Km.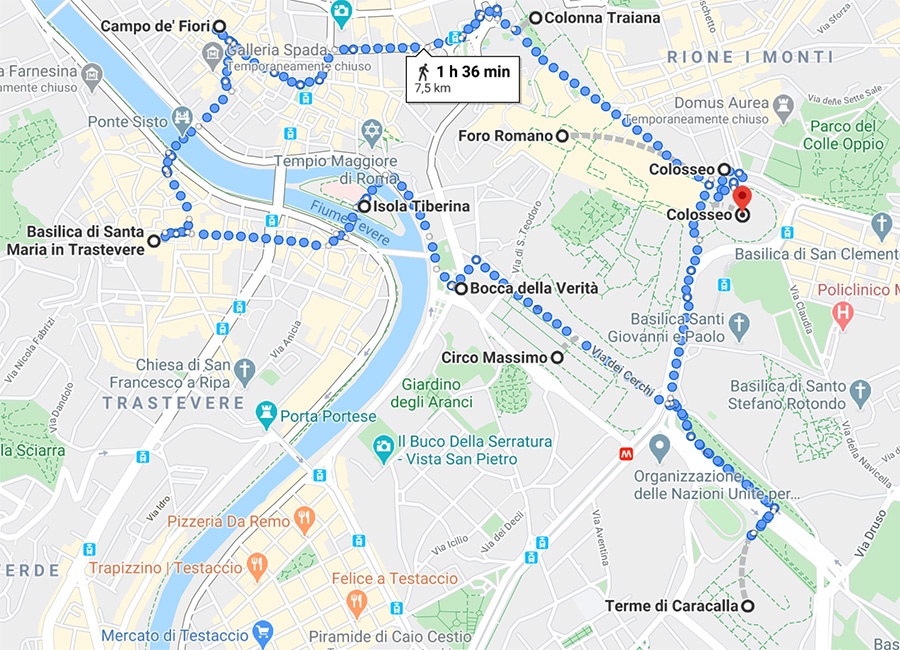 (Visited 410 times, 1 visits today)