An extended network of road, train, air and sea connections provides an easy access to Rome from Italy as well as from across the world.
In the article I explain you how to reach the capital city of Italy with the opportunity to buy your travel tickets in advance if the option is available. This is the best way to save time once in Rome as you do not need to print anything as a mobile ticket is enough. Besides that, cancellation is free in most cases.
To find out more about how to explore Rome by foot and public transport please check this page.
Rome, useful tips on how to get there 
A popular local saying – "All roads lead to Rome" (Tutte le strade portano a Roma) – expresses a real thing. Indeed, the Roman Empire's roadways radiated outwards from its capital and today the city boasts the largest road network in Europe.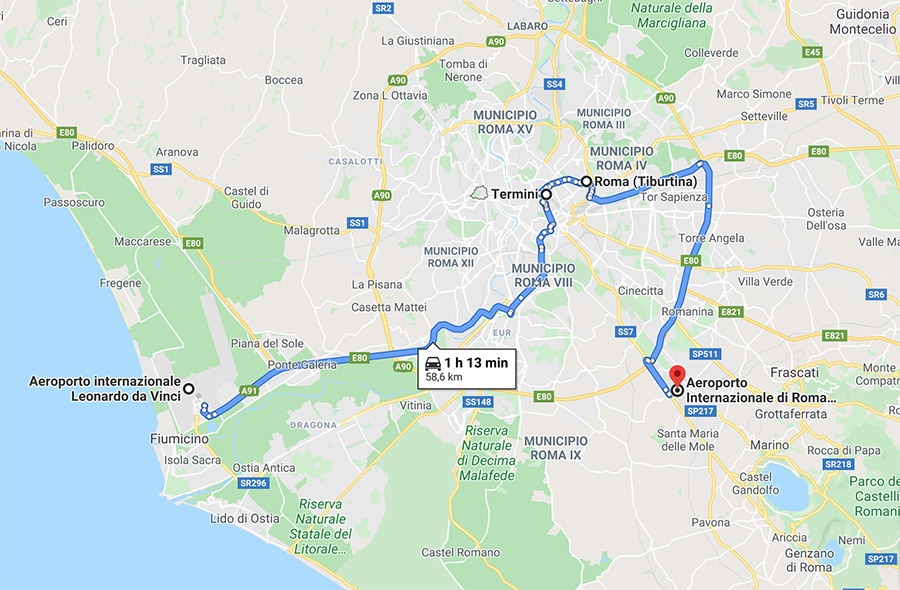 By car 
The motorway Milan-Rome A1 links the city to Northern Italy. The Aurelia state road and then the Civitavecchia-Rome A12 are the best ones for those who come from west. The Aquila-Rome A24 is headed to the Adriatic Coast whilst the Naples-Rome A1 is for Southern Italy.
Every motorway joins up with the "Rome Ring Road" (Grande Raccordo Anulare) which all exits go for the centre and the suburbs. Driving in Rome is not very recommended, especially for first-time visitors. Indeed the city suffers from traffic problems and many signed-posted limited traffic zones are in place throughout the historic centre so specific permits are required.
By bus
Many companies – especially Flixbus – travel to/from Rome from abroad and other Italian regions. The terminus is located in front of Tiburtina Railway Station in the east area of the city. From here you can take trains to Termini or other destinations as well as the underground (Metro Line B) to the city centre.
At Tiburtina Terminus you find shops, ticket offices, banks, toilets and a food area.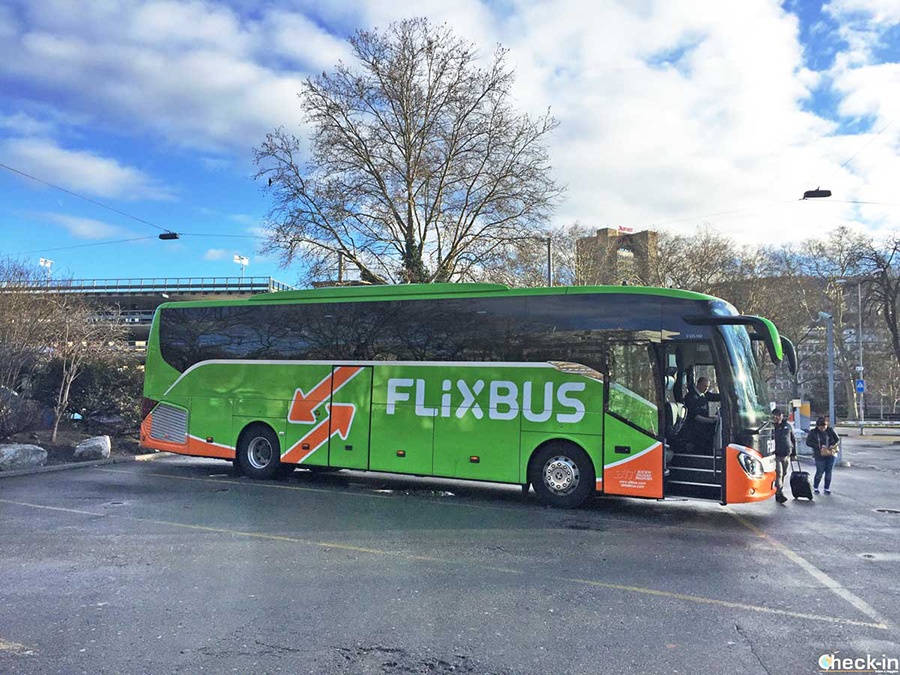 By train
Due to its position Rome is the principal railway node for central Italy with frequent high speed trains to all major Italian cities such as Naples, Florence, Bologna, Milan, Turin and Venice.
Roma Termini is the main railway station and it is served by Metro Line A-B with easy and fast connections to the historic centre. Other important railway stations are Tiburtina and Ostiense.
For more information please visit Italo and Trenitalia websites.
By cruise
Civitavecchia Port is one of the most important in Italy and it is the main harbour which serves Rome. It is situated about 62 Km northwest of the city and it is well-connected to the historic centre by bus, trains and the motorway A12.
Besides that, other services are available for tourists on a cruise. The shuttle bus from Civitavecchia to Rome Termini Railway Station departs at 9 am and 9:30 am while return trips leave Rome Termini at 3:30 pm and 4 pm. For more details please check this page. Another shuttle bus connects Civitavecchia Port to Vatican City and the transfer lasts around 60 minutes. Prices and timetables are available here.
Otherwise, if you want to see the main sights of Rome (Colosseum, Basilica of St. Peter's, Piazza Navona…) at your own pace you can benefit from a round-trip transfer from Civitavecchia to the historic centre and then you have 8 hours to explore the city. Those who prefer visiting Rome and Vatican City with guided tours may opt for a full-day panoramic bus tour with a live tour guide in English and German. You find more information at the following link.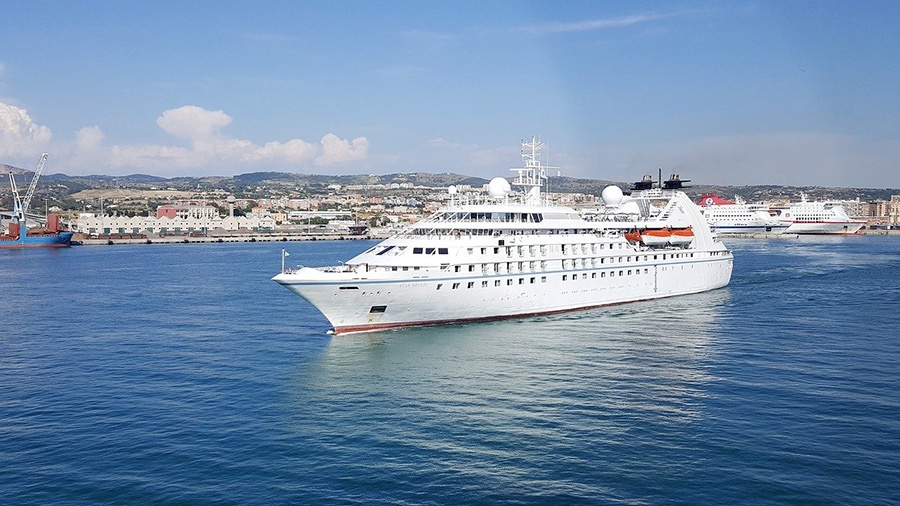 By plane – Fiumicino Airport
Rome is served by two Airports. The main one is Leonardo da Vinci International Airport and it is located near Fiumicino, 26 Km south-west of the city centre. Different options are available to travel to/from the historic centre and you can buy the tickets online.
Leonardo Express is a non-stop train headed to Rome Termine Railway Station in just 32 minutes. Services depart every 15-30 minutes from 5 am to 11 pm. Prices and timetables are shown in this page.
Bus transfers to Rome Termini are cheaper and reach the city centre in around 50 minutes, including a stop at Piazza Cavour. Bus shuttles are also operated from Fiumicino Airport to Vatican City, journey time is approx. 50 minutes and tickets can be used at any time. Please click here for more information.
Shared shuttle transfers from Rome to Fiumicino are available for maximum 8 passengers and include the pick-up at the hotel. It is perfect for those who have an early morning or late evening flight. For all the details visit this page.
By plane – Ciampino Airport
Ciampino Airport is located 20 Km south-east of Rome. It is an important hub for many low cost companies which operate domestic and international routes.
The easiest way to reach the city centre is by bus. Shuttle services connect Ciampino to Rome Termini Railway Station in around 45 minutes with trips every 30-40 minutes throughout the day. Children up to 5 years old can travel for free. More information are available here.
Anyway, it is also possible to pre-book a private transfer from Fiumicino or Ciampino Airport to the city centre or vice versa. Journey time is approx. 50-60 minutes and waiting times due to flight/train delays will not be charged. In this page you find all details and links to booking, with free cancellation if this is made up to 24 hours in advance.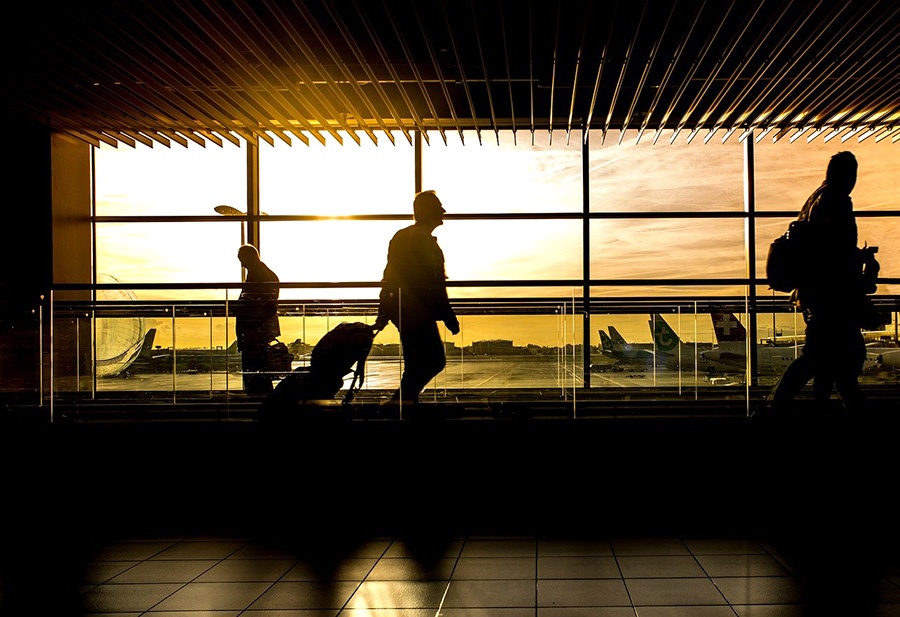 (Visited 538 times, 1 visits today)