As the regional capital of Campania and the third-largest city of Italy, Naples is also part of one of the most densely populated metropolitan areas in Europe. In this article I share with you some information related to how to reach Naples by land and air and how to explore its city centre by foot and public transport. Then, you find a recommended itinerary that allows you to discover its top attractions and places of interest.
—> The top 10 activities to do in Naples and its surroundings <—
How to arrive to Naples (Campania)
Naples is well-connected to many of the main Italian cities thanks to an advanced transportation network that has been developed in the recent years. So it is very easy to reach the regional capital of Campania both by air and land.
By car
Naples is served by different important motorways linking South Italy to Centre and North areas. The Autostrada A1 – which is the largest one in Italy – runs towards Milan passing through Rome, Florence and Bologna. The A3 is headed to Salerno and then the A2 continues up to Reggio Calabria. The A16 is also known as the Autostrada dei due mari as it connects the Tyrrhenian Sea to the Adriatic Sea.
Then, the A56 – also called Tangenziale – crosses the city from Capodichino to Pozzuoli.
By bus
Flixbus covers lots of national and internation routes to more than 225 cities. The company has 2 bus stops in Naples:
MetroPark (Corso Arnaldo Lucci 156) is the main one and it is situated near the Central Station;
Fuorigrotta (Piazza Giorgio Ascarelli), next to Campi Flegrei Railway Station.
For more details concerning fares, timetables and destinations please check Flixbus website.
Besides that, from MetroPark arrive/depart daily shuttle buses to/from Rome Fiumicino Airport and Rome Ciampino Airport.
By train
The Alta Velocità high-speed rail links Naples to other cities such as Salerno, Rome, Florence, Bologna, Milan, Turin and Venice. The local main railway station is Napoli Centrale, near Piazza Garibaldi, and it is served by regional, intercity and high-speed trains. Napoli Afragola – located in the municipality of Afragola just north of Capodichino Airport – is another railway station served by high-speed trains. It was designed by Zaha Hadid and it opened in June 2017.
Other important railway stations for urban commuters are Napoli Campi Flegrei (west Naples) and Napoli Mergellina (city centre).
You can check prices and timetables on this website.
By ferry
The Port of Naples is one of the most important in Europe and it is situated near the city centre, just a few steps away from the railway station and the motorway as well.
It serves over 7 million passengers, including those arriving with cruise ships. Other services connect Naples with destinations such as Capri (also by daily guided tours), Ischia, Sorrento, Positano, Amalfi, Sicily, Sardinia, Ponza and Aeolian Islands.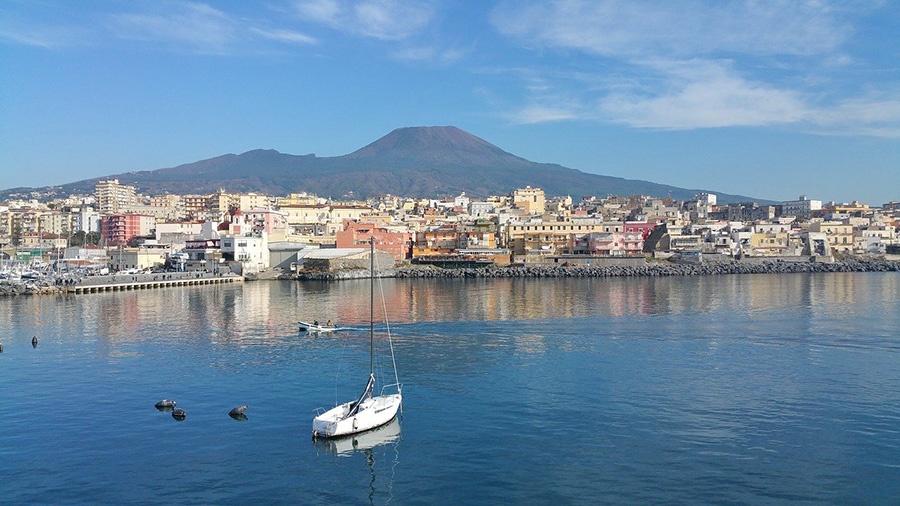 By plane
Capodichino International Airport is located north-east of Naples, just 7 Km far from the city centre. It is served by traditional and low cost airlines travelling to domestic and international destinations.
The easiest and fastest way to reach the airport is by Alibus, a shuttle bus service to/from Central Station with additional stops at the Port and at the Maritime Station. Travel time between the Airport and the city centre is about 15-30 minutes. Ticket costs 5€ and it can be purchased at the vending machine at the "Arrivals" Terminal, at the parking counter or directly on board.
A private transfer to/from Naples hotels is also available. Journeys last around 30 minutes and multilingual staff are at your disposal in case of any needs. You find more details about the service and its price on this page.
Other bus companies operate direct services from Naples Airport to Salerno, Paestum, Amalfi and Sorrento.
How to explore Naples by public transport
The Naples metropolitan area is served by a public transport network including trams, buses, trains, metro and funiculars.
By funicular
There are 4 funicular railway lines that link the centre and the promenade to the hilltop districts of the city.
The Central Funicular was opened in 1928 and today it is one of the most used funicular railways in the world, carrying more than 10 million passengers per year. It has 4 stops: Augusteo (near Galleria Umberto I), Corso Vittorio Emanuele, Petraio and Piazza Fuga (nex to Piazza Vanvitelli). Chiaia Funicular dates back to 1889 so it is one of the oldest in the world of this type. It connects 4 stations: Regina Margherita, Corso Vittorio Emanuele, Palazzolo and Cimarosa (on the top of Vomero hill).
Montesanto Funicular is in operation since 1891 and it has just 3 stops: Montesanto, Corso Vittorio Emanuele and Morghen (near Castel Sant'Elmo). Then, Mergellina Funicular was opened in 1931 and it is the most recent cable railway introduced in Naples. Its stations are: Mergellina, Sant'Antonio, San Gioacchino, Parco Angelina and Manzoni (on the top of Posillipo hill).
By metro
This is undoubtedly the best way to Explore Naple historic centre and to reach its top attractions, especially considering the road traffic congestion.
Line 1 connects 18 stations – between Piscinola to Piazza Garibaldi – across the city centre and its surroundings. It is known as Metro of Art (Metro dell'Arte) as many contemporary art works are installed in some of its stations. Museo, Dante, Toledo, Cavour and Università are the metro stops situated near most of Naples sites of interest. Opened in September 2013, Toledo metro station was declared the most impressive and beautiful station across Europe by BBC.
Line 2 is a commuter rail service and it links 12 stations, between Pozzuoli and Gianturco. Main stops are Mergellina, Amedeo, Montesanto, Cavour and Stazione Centrale.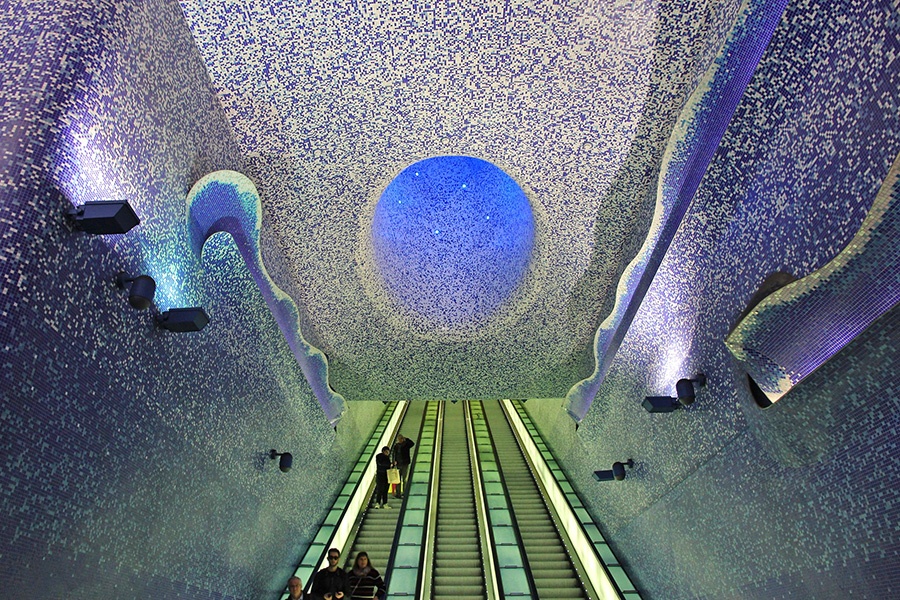 By urban train
There are 3 commuter railway lines that run across Naples metropolitan area including some tourist attractions located few kilometres away from the city so easily reachable for a day out.
Cumana was opened in 1892 and it connects Naples with Torregaveta, near Cuma (around 15 Km west of the city). The line passes through Fuorigrotta, Mostra (get off here for Diego Armando Maradona Stadium, previously called San Paolo Stadium), Pozzuoli and the volcanic Campi Flegrei area.
Circumvesuviana serves Naples and its province towards east, up to towns like Nola or Sorrento. Departing from Garibaldi Station tourists can reach Herculaneum in just 20 minutes (for tickets and tours please check this page) and Pompeii in 40' (tickets and tours available here).
Circumflegrea runs west of Naples to the northern Phlegraean Fields, passing through the municipalities of Quarto, Pozzuoli and Bacoli.
Itineraries to visit Naples and its surroundings
Naples' historic city centre is considered the largest in Europe and it is a UNESCO World Heritage Site since 1995. For this reason I recommend you to spend at least 2 days in town, even more for exploring nearby places such as the Palace of Caserta and the Roman ruins of Herculaneum and Pompeii.
Part of the suggested itinerary runs along the Spaccanapoli, a straight and narrow street that traverses the historic centre and provided access to many relevant sights of Naples. For example here you can walk along via San Gregorio Armeno to admire its endless shops dedicated to the Christmas Nativity tradition famous all over the world. The artisan worshops are always open so the street and the shops can be visited all year round.
—> The top 10 activities to do in Naples and its surroundings <—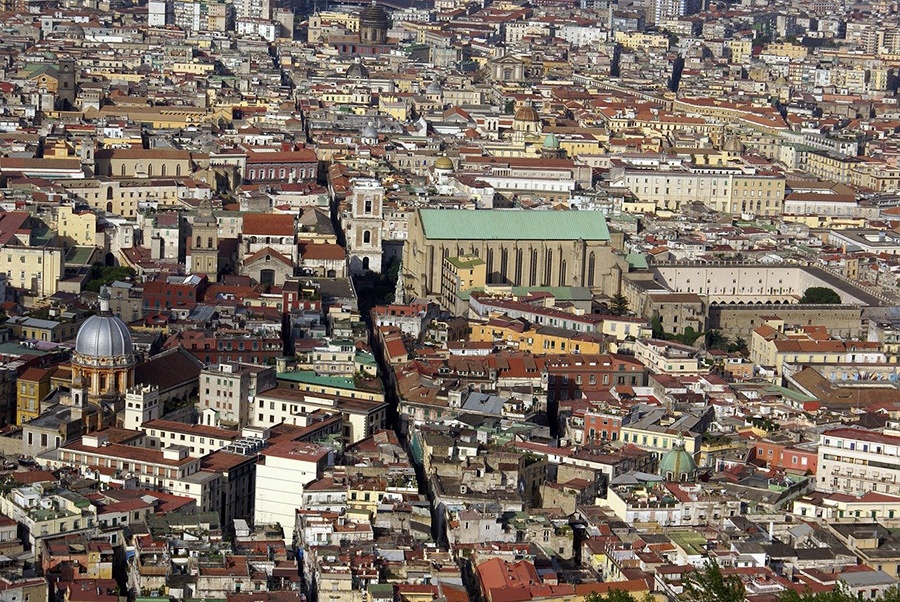 Here there is a list of Naples' attractions and places of interest not to be missed:
the Cathedral, also known as the Cattedrale di San Gennaro and three times per year it hosts the famous miracle of Saint Januarius (the city's patron saint);
the Naples National Archaeological Museum, featuring one of the most extensive collections of artefacts of the Roman Empire in the world;
Naples Underground, situated 40 metres below the street level in the historic centre. Guided tours allow visitors to explore cavities excavated in the 4th century, some remains of the ancient Roman Theatre, tunnels and cisterns used as air-raid shelters during World War II;
the Catacombs of San Gennaro, an underground paleo-Christian burial and worship site which dates back to 2nd century and it is located in the northern part of the city (Rione Sanità);
the Museum of Capodimonte, situated inside the old Bourbon Palace, it houses paintings from the 13th to the 18th century (Raffaello, Tiziano, Caravaggio, El Greco and so on);
Royal Palace of Naples, built between 17th-19th centuries as one of the residences of the House of Bourbon. It overlooks Piazza del Plebiscito, the main city square surrounded by the Church of San Francesco di Paola and the Teatro San Carlo, which is the oldest opera house in Italy;
the Bourbon Tunnel, built in 1853 as an escape from the Royal Palace. Actually it was used during the Second World War as a military hospital. Today guided tours bring tourists on an unique journey across the history of Naples;
the historic castles of Castel dell'Ovo (the oldest one), Castel Nuovo (also known as Maschio Angioino) which is one of the city's foremost landmarks, Castel Sant'Elmo which was erected on a strategic position to overlook the entire city.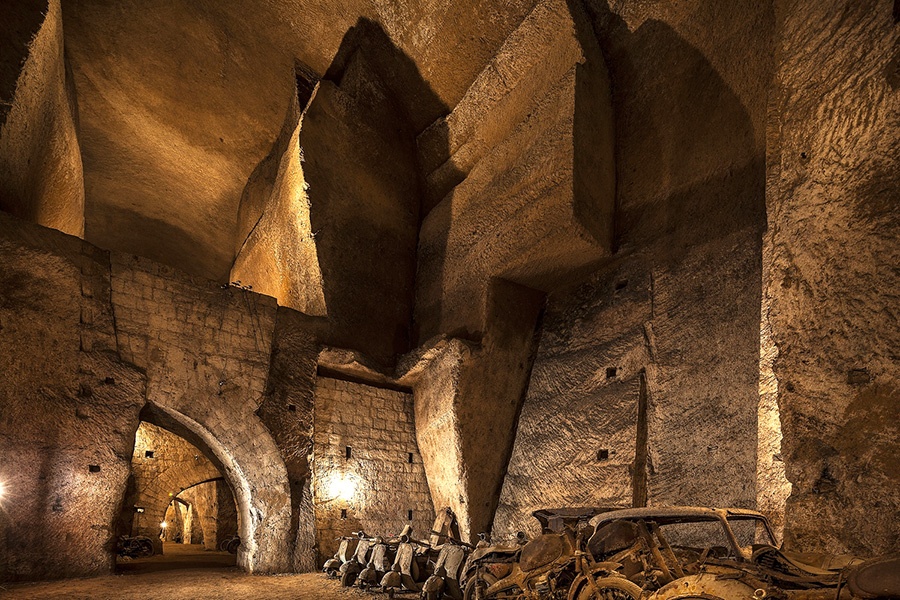 Besides that, there are different walking tours available in english for tourists:
5-hours guided tour of the city centre and the undergrounds (you can find all details on this page);
2,5-hours downtown tour together with the entrance to Cappella San Severo to see the iconic Veiled Christ (more information here);
2,5-hours private tour focused on Naples Street Art, culture and legends.
Then, Naples is an ideal base for day trips by public transport in its province and nearby areas.
Located 30 km north of Naples, the Royal Palace of Caserta (Reggia di Caserta) was constructed by the House of Bourbon as their main residence as kings of Naples. It is the largest palace built in Europe during the 18th century and it was declared a UNESCO World Heritage Site in 1997.
The palace is easily reachable by train from Naples Central Station. Tickets can be bought in advance here to get the priority entrance. Shuttle buses with priority tickets are also available (more information on this website).
Once in Naples you cannot miss an excursion to Mont Vesuvius (1.285 m high), one of the two active volcanoes in continental Europe. It is considered one of the most dangerous volcanoes in the world as it is situated in a very densely populated area. A visit of the Vesuvius National Park is an experience of a lifetime. This was established in 1995 to protect an environment with plenty of geological, historical and biological sites of interest. The best way to reach it is by car, otherwise there are day trips from the historic centre of Naples. The bus brings you up to 1.000 metres, then you reach the crater along a panoramic path together with a local alpine guide. More information are available here.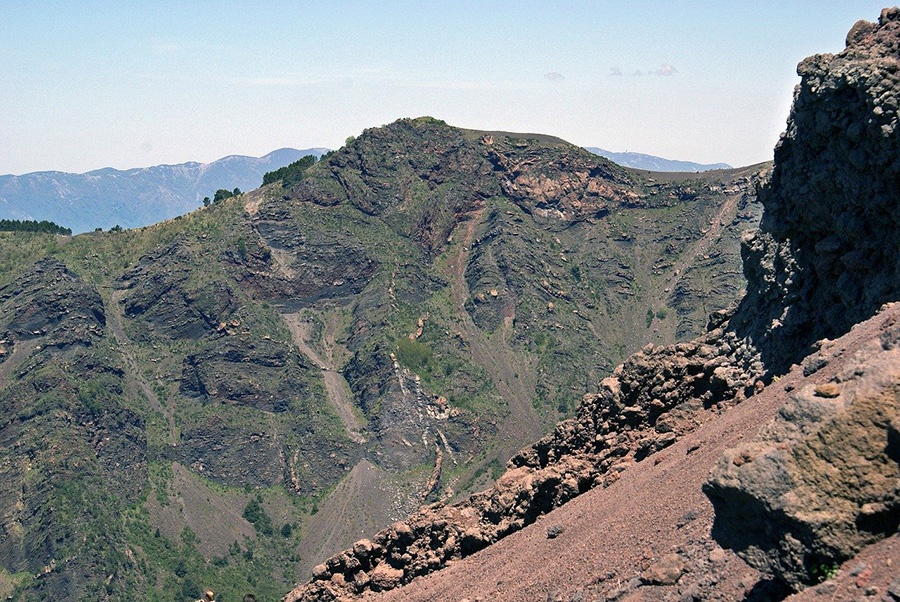 Another guided tour that may be interesting for you is the one including the visit of the ruins of Pompeii before walking up to the top of Vesuvius. For full itinerary, prices and additional services please check this website.
The eruption of Mount Vesuvius in AD 79 destroyed the famous Roman cities of Herculaneum and Pompeii. Both archeological areas were declared UNESCO World Heritage Sites in 1997 and are opened to public. Tickets and guided tours available: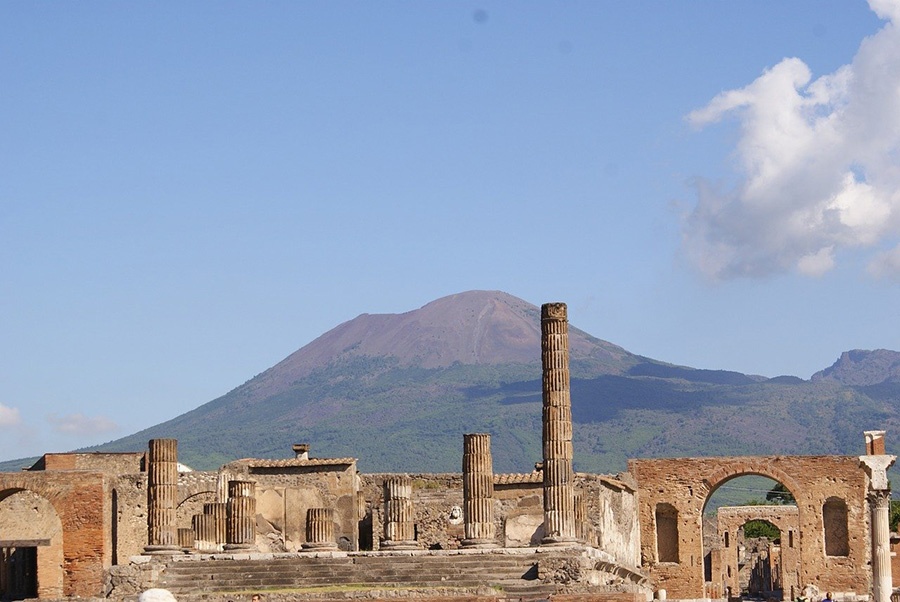 (Visited 414 times, 1 visits today)