Located in central Italy, Florence is the capital and most populated city of Tuscany. Due to its position it is easily reachable by car, train, bus or plane. In this article I explain you how to get there and then which is the best way to explore the historic centre, declared World Heritage Site by UNESCO in 1982. Last but not least, I recommend you some activities to do and itineraries to follow in order to visit Florence's main sites of interest.
How to reach Florence
The city is well-connected with the rest of Italy and Europe as well, so you will not have any kind of problem to get there by air or land. Then, facilities and infrastructure are upgraded year by year allowing faster connections as well as competitive rates.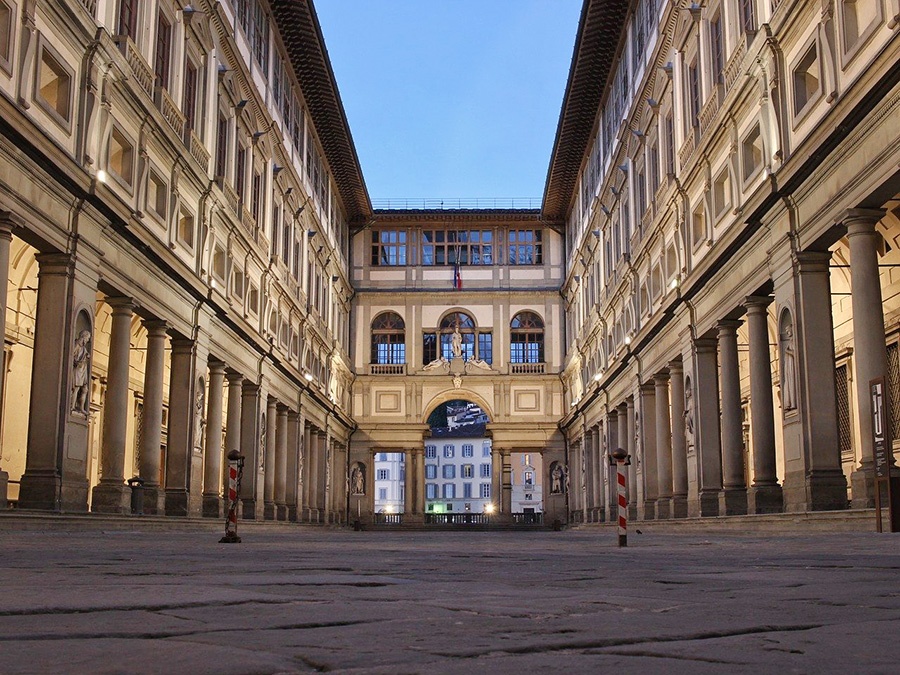 By car
Florence is a key node on the Italian road network between north and south:
A1 Motorway (Autostrada del Sole) Milan-Naples;
A11 Motorway to the Tyrrhenian Coast with also connections with A11/A12 towards Genoa;
SGC Florence-Pisa-Livorno.
Once in Florence driving is no longer convenient as the entire historic centre is a "Restricted Traffic Zone (ZTL)" with special rules for cars' access, transit and parking. The only exception is for tourists who need to reach the hotel with their car.
At the borders of the Florence-ZTL there are many parkings available, please check this website for prices and conditions. Park&Ride areas are located around Florence from where Tramways T1-T2 bring you right into the city centre.
By train
Florence is on the main rail link from Milan to Rome as it is situated in the centre of the Italian peninsula.
Firenze Santa Maria Novella is the main railway station and it is in the city centre, just in front of the Basilica of Santa Maria Novella from which it takes its name. Regional, high-speed and international trains arrive at and depart from here. Some average journey times to/from:
Bologna, 40'
Milan, 1h40'
Rome, 1h30
Other railway stations are Campo Marte (south-east of the centre) and Rifredi (north-west of the centre). Prices and timetables are available on this website.
By bus
Flixbus connects Florence with many other Italian and European cities. The network map is available on this page. Please note that there are 3 bus stops in town:
Piazzale Montelungo (viale Filippo Strozzi) is the one most closed to the historic centre;
Guidoni Tram T2 (viale XI agosto), next to the Airport of Florence and tramline 2 to Santa Maria Novella (city centre);
Villa Costanza Parking Tram T1 (via della Costituzione), from there you can catch tramline 1 to Santa Maria Novella.
By plane
Amerigo Vespucci Airport is located 4 km north-est of Florence city centre. Alitalia, Klm, Iberia, Vueling, Air France, Lufthansa and British Airways are some of the airlines offering scheduled services from/to there.
It is very easy to reach Florence Airport from the city centre and vice versa. The tramway line 2 Vespucci connects Santa Maria Novella Railway Station to the Airport in around 20 minutes with runs very 7 minutes. Ticket costs 1,50€ and it can be purchased at the automatic vending machines located at every stop. Tickets must be validated on the train and are valid for 90'. Otherwise, "VolaInBus" is a shuttle service to SMN Railway Station that runs every half hour, travel times is about 20 minutes.
Low cost airlines operate at Galileo Galilei Airport in Pisa, which is 80 Km far from Florence. Bus services link Pisa Airport to Guidoni T2, from where you can reach Florence city centre by tram. Transfer time is approx. one hour, tickets must be bought at the Ufficio Informazioni situated at the Arrivals Terminal. If you are travelling between 10 pm and 6 am buses arrive to and depart from Santa Maria Novella Railway Station.
For more information concerning the bus transfer please visit this website.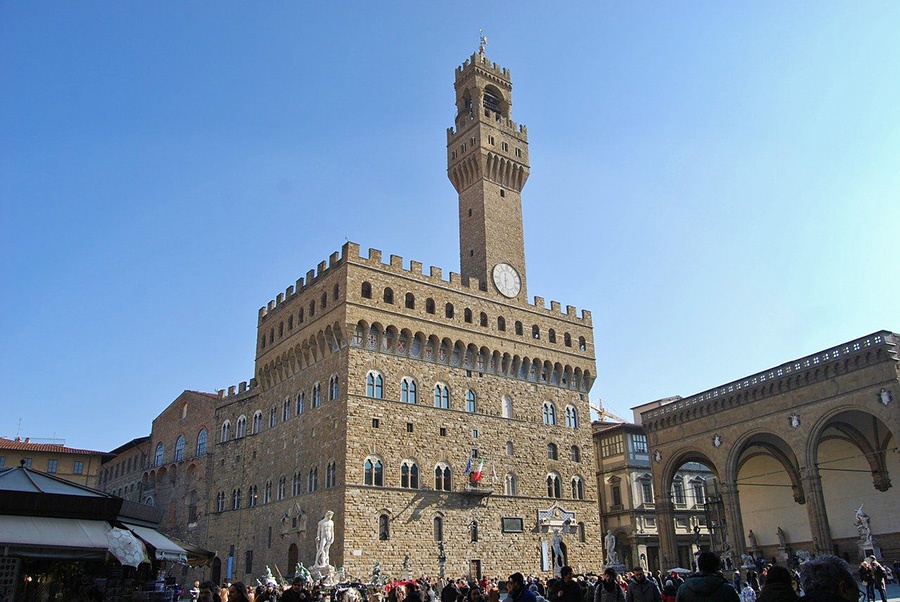 How to explore Florence
The best and easiest way to discover Florence is on foot. Indeed, the historic centre is quite small and therefore perfect for a fantastic walk along squares, alleys and all the places of interest.
Have a walking tour across the city centre
This guided tour is definitely a good way to start your visit of the Italian city, with the chance to learn its history and get a glimpse of its most important monuments and museums. The tour across the historic centre lasts 90 minutes. The itinerary includes places such as the Cathedral of Santa Maria del Fiore, the Baptistery of St John, Giotto's Campanile, the house of Danta Alighieri, Ponte Vecchio, Piazza Signoria and Palazzo Vecchio near the Uffizi courtyard.
Earphones are provided in case of groups with more than 15 participants. Cancellation is free up to 24 hours in advance. For more details and online purchase please go to this page.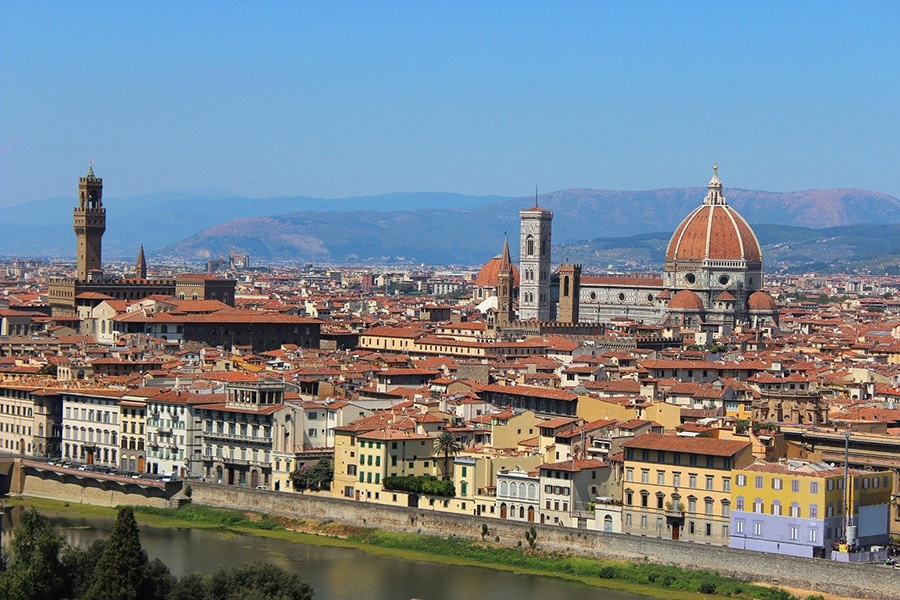 By city bus services and hop-on hop-off bus tours
Electric buses run throughout the historic centre as well as in the pedestrian areas. There are 4 lines: C1 (it reaches some of the most important museums of the city), C2, C3 and C4.
Other bus services that may be useful for tourists that want to travel within the metropolitan area of the capital city of Tuscany are:
line 7, Largo Alinari (near SMN Railway Station) to San Domenico and Fiesole;
line 12, Rotonda Barbetti (SMN R. S.) to Piazzale Michelangelo and via Cavour;
line 14/A, largo Alinari–Piazza San Marco–Viale Generale della Chiesa ("Firenze Camping in town");
line 25/A, via la Pira (San Marco square)-Piazza della Libertà–Pratolino (Parco Mediceo);
line 37, Piazza SMN–Porta Romana–Bottai ("Campeggio Internazionale").
A single ticket costs 1,50€ and it has a validity of 90 minutes. Then, it must be convalidated once on board.
The hop-on hop-off bus tour is the recommended solution for those wo want to explore Florence in a comfortable and convenient way. The open-top double-decker buses cover two routes so that visitors get a full glimpse of what the city has to offer.
Line A runs across the historic centre and the entire journey takes around 60 minutes. Line B is headed to Fiesole, a beautiful Etruscan hillside city with amazing panoramic views of Florence. The full route lasts around 2 hours.
Tickets can be purchased online in advance here and are valid for 24-48-72 hours, including unlimited travels, multilingual audio commentary and free WiFi on board.
2 top walking itineraries to follow to visit Florence
In my opinion, having at least 2 days allows visitors to discover most of Florence top attractions. In order to save time and money buying tickets and tours online is definitely a good decision so that you can choose the time of the visit as well as getting a priority access to monuments and museums.
1) The first walking itinerary is focused on Florence historic centre, leaving from Santa Maria Novella Railway Station.
The highlights are the following: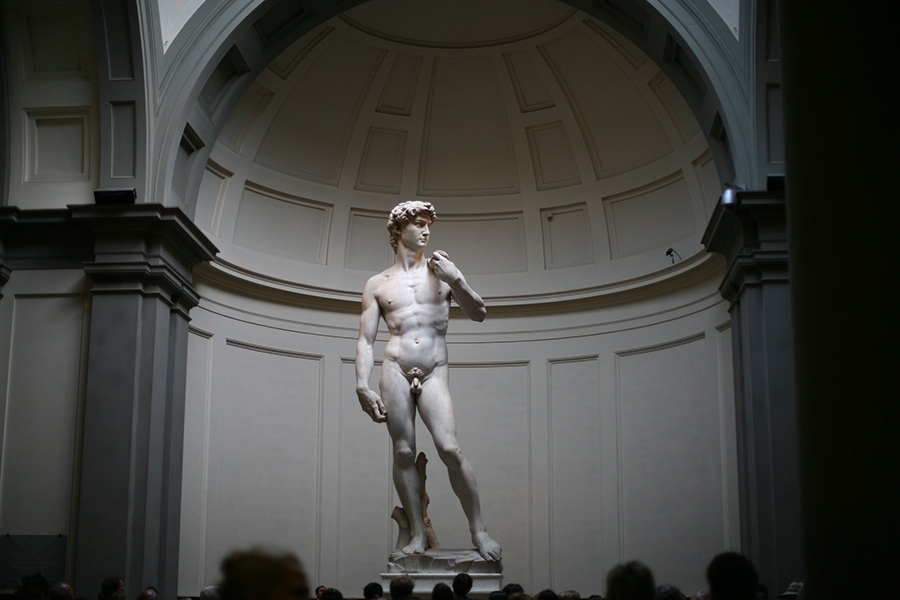 The second route I suggest is shorter and it brings you on the other side of Arno River, nearby the city centre. As for the previous itinerary, these are some of the places of interest not to be missed:
Pitti Palace, with the opportunity to take part of a guided tour of the Palatine Gallery;
Boboli Gardens, an historic park that was designed for the Medici and then opened to the public in 1766. It is one of the first and most important examples of "Italian Garden";
Piazza Santo Spirito;
Church of Santa Maria del Carmine and access to Brancacci Chapel, considered the "Sistine Chapel of the early Renaissance";
Piazzale Michelangelo and the Basilica of San Miniato al Monte, offering stunning views of Florence historic centre and both easily reachable by hop-on hop-off buses.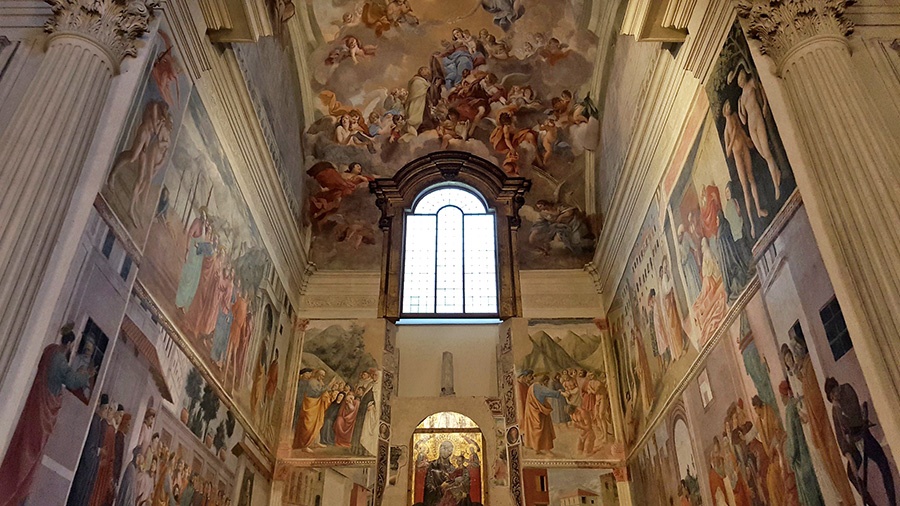 (Visited 211 times, 1 visits today)