Edinburgh Airport (Turnhouse Airport) is about 8 miles from city centre and there are many options available to reach it by public transport. Considering my previous experiences I would suggest taking Airlink 100 Bus Transfer, that connects the Airport to the city centre in roughly 30 minutes. This is the cheapest and fastest way to get to the Scottish capital, exactly to Waverley Station, where you will have the opportunity to have a first sight of the imposing Edinburgh Castle.
Then, if your accomodation is located in Leith area the easiest way to get there is travelling with the new tram line from the airport.
Otherwise, if your final destination is Glasgow, you can take the Citilink Air with a daily service (5 am – 11:30 pm) between Edinburgh Airport and Buchanan Bus Station. The journey lasts one hour and you can buy your ticket in advance from Citylink website.
Edinburgh Airport: how to arrive to the city centre with Airlink 100 service
Airlink 100 are double-decker buses immediately recognizable for the blue colour of their bodies. Leaving from Edinburgh Airport, the bus stop is located just outside the domestical arrivals (see the map and the transport links). Near the bus stop there is the kiosk where you can exchange your e-voucher for a ticket (I'll explain this later).
Once on board, you can leave your luggage in the dedicated area (with CCTV security), use the free WiFi and the power points and USB charging available. The bus 100 may be the right choice even for those people that need to get off at other places like Edinburgh Zoo, Murrayfield or Haymarket train station (click here for the full itinerary).
Final stop is St Andrew Square, located few steps away from Waverley Bridge and the Edinburgh main railway station.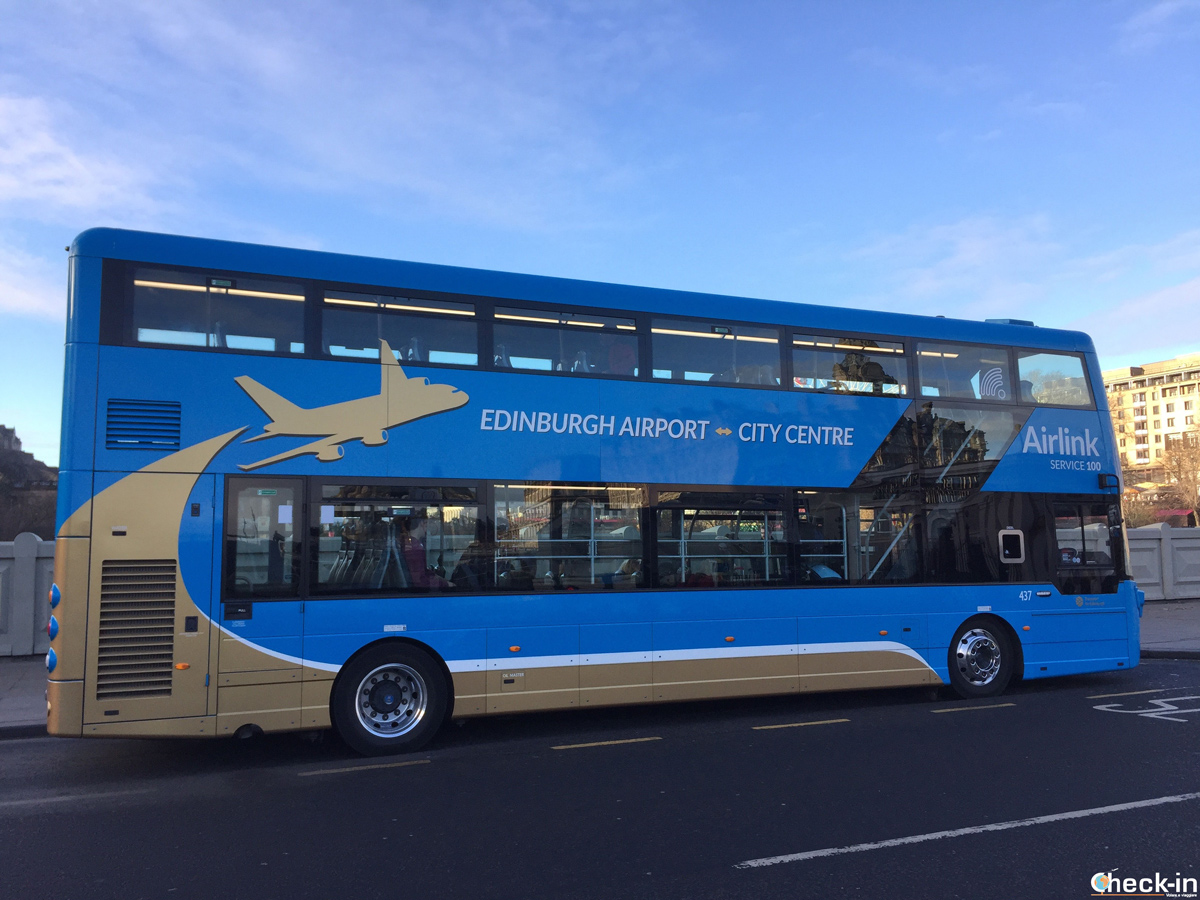 During my trip to Edinburgh in August to attend the Fringe Festival I got the chance to travel on new buses with different colors as well as more informations for the passengers… well done Lothian Buses!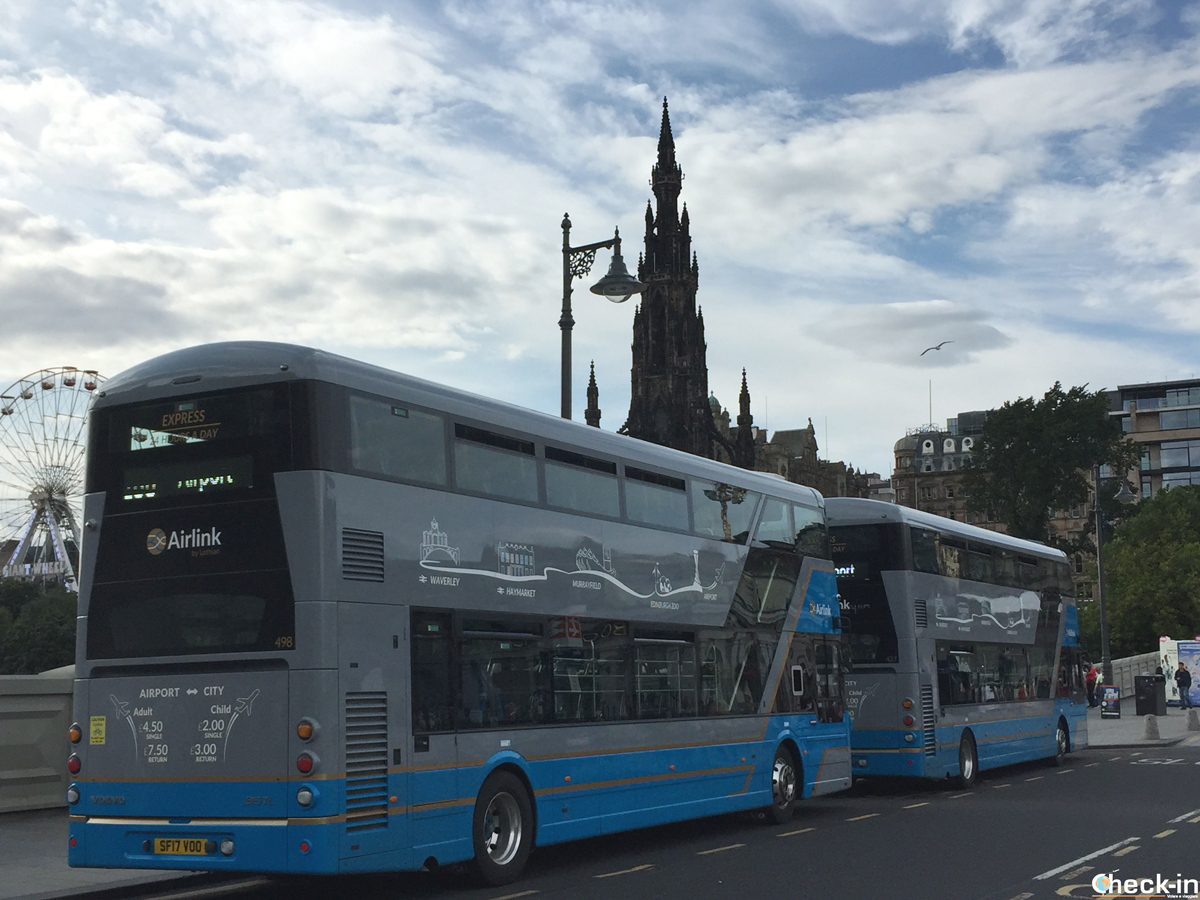 Edinburgh Airport: Airlink 100 bus timetable
The bus service runs all the day and night:
every 10 minutes from 4am to 12.00am;
every 30 minutes from 12.30am to 3.30am;
there are no Airlink Night services on 25-26 December and 1-2 January.
Edinburgh Airport: Airlink 100 fares
There are many options available for single and return tickets:
adult (16+) £5,50, child (5-15) £2,75 – one way
adult (16+) £8, child (5-15) £4 – return
In both cases, children aged 0-4 are free of charge.
As I wrote few lines above, you may exchange your e-voucher for a ticket at the Airport kiosk next to the bus stop. In case you don't have time to do so, don't worry and show your Pdf document directly to the bus driver.
Edinburgh Airport: buy Airlink 100 tickets in advance here

You can purchase your Airline 100 tickets in advance from GetYourGuide (click here) paying in your own currency.
How to get your Airlink 100 ticket

I explain you now how to purchase your ticket(s), the process is really easy and took me no more than 5 minutes:
First of all, select a single or return ticket, the number of passengers (adult or child) and then click on Add to basket;
Choose Checkout or Add more in case you have more tickets to buy;
Then you can create your personal account or simply finalise the purchase;
Add all Your Details required and the billing address as well;
Proceed to Payment by credit/debit card;
You may print the Confirm page or wait just few minutes for the e-voucher by email.
The e-voucher is a Pdf Document that must be printed and shown at the kiosk at Edinburgh Airport or to the bus driver if travelling just from the city. The one-way ticket is valid for the date of purchase while the return ticket has no expiry date.
That's it, enjoy your stay in Edinburgh 🙂
Are you looking for the nearest Hotel to Edinburgh Airport? So just check out Booking.com website.
(Visited 5,389 times, 1 visits today)