During the week spent in Fife I had the chance to explore Falkland, a Royal Burgh renowned as one of the most pictoresque towns in Fife and Scotland as well. One day was enough to enjoy this little charming village, its medieval atmosphere and the famous Falkland Palace, built in 16th century to accomodate the Scottish Royal Court.
Then, if you are a fan of Outlander tv series, there're few places that you may be familiar with. Speaking of this, there are many guided tours from Edinburgh and Glasgow which bring visitors to some of the locations of seasons 1,2 and 3. Full list is available on this page.
Things to see in Falkland in one day
It's definitely impossible to get lost in Falkland as there's one main street that stretches along the Palace and its gardens. The bus stop is located just in front of the Royal Residence. Most of the local shops and cafes are situated in East Port and High Street.
I was very impressed by this charming town – nonethless the rainy day – so I'm sure you'll enjoy the visit too. There're also some guided tours from Edinburgh that stop here, if you're interested in these please check this website.
Falkland Palace and Gardens
Falkland Palace was the country residence of the Stuart kings and queens. Built by James IV and James V between 1501 and 1541 on the site of an old castle, it's considered one of the finest examples of French renaissance architecture in the UK. The palace hosted a Scottish court that became famous throughout Europe thanks to its encouragement of the sciences and the arts as well.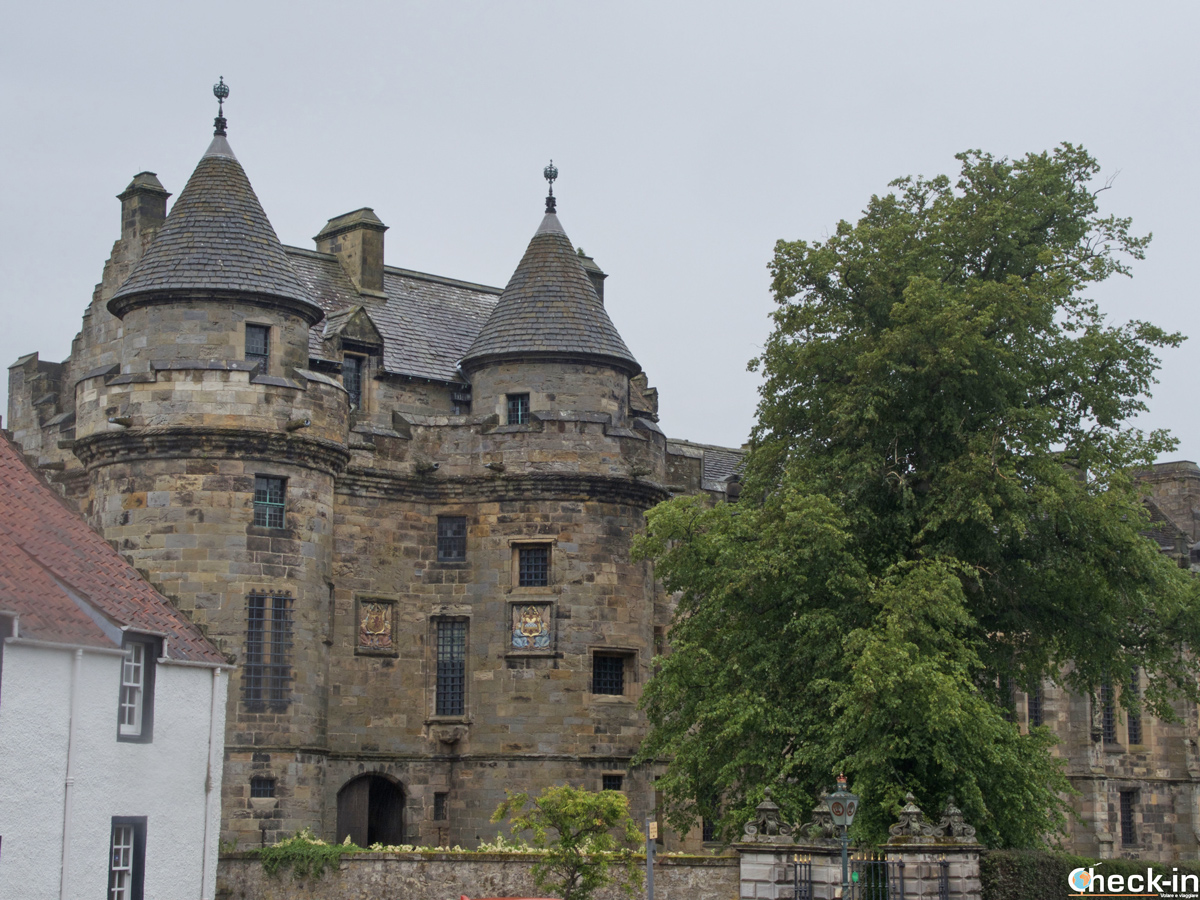 Once inside, during the visit you meet the guides – sometimes they're costumed too – that will look forward to telling you stories and secrets about the building and the residents. My personal highlight is the royal apartments with the Queen's and King's Room recreated as the original ones.
Mary Queen of Scots stayed many times here, she loved the place even because she enjoyed playing tennis in the Royal Tennis Court. Built in 1539 by James V, it's the world's oldest tennis court still in use. It's located on the lower ground in the gardens, a beautiful area where to stroll (hopefully on a sunny day).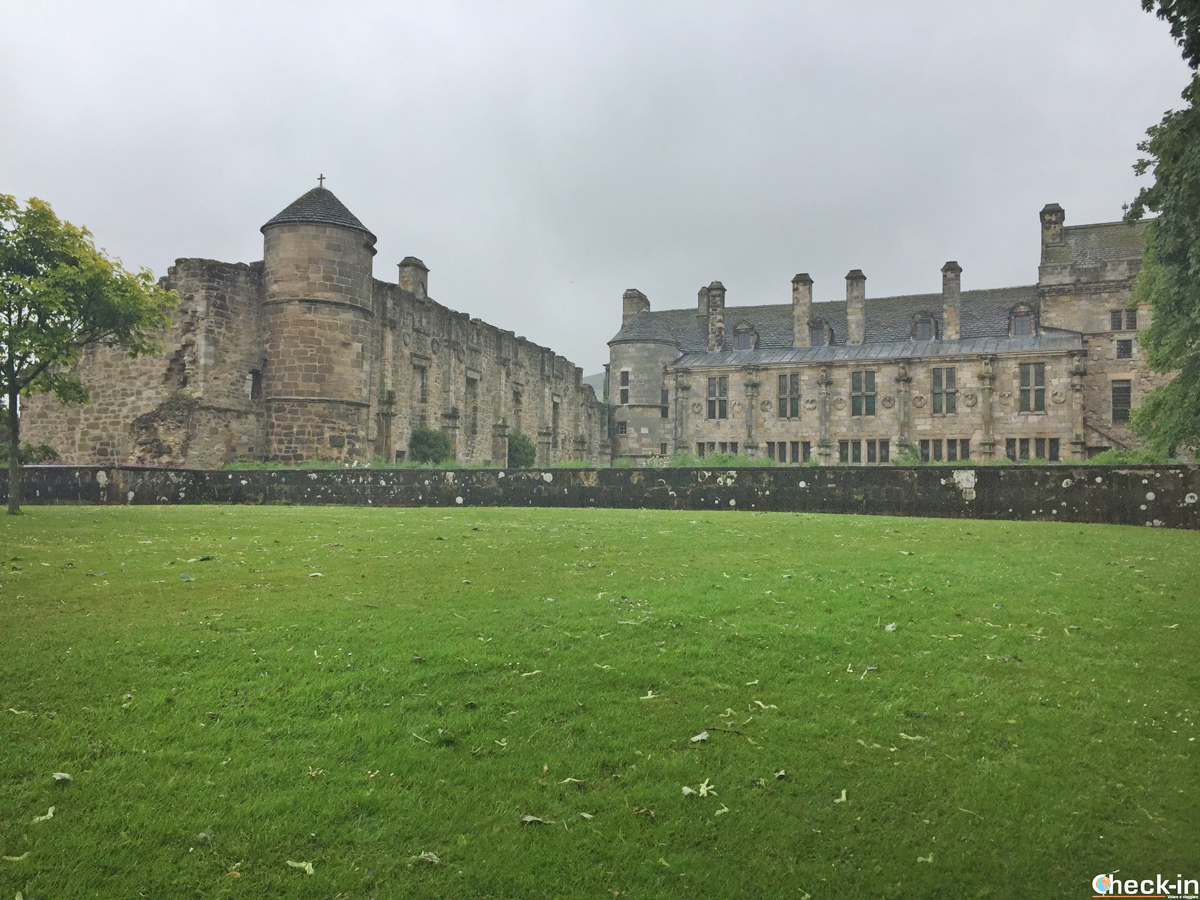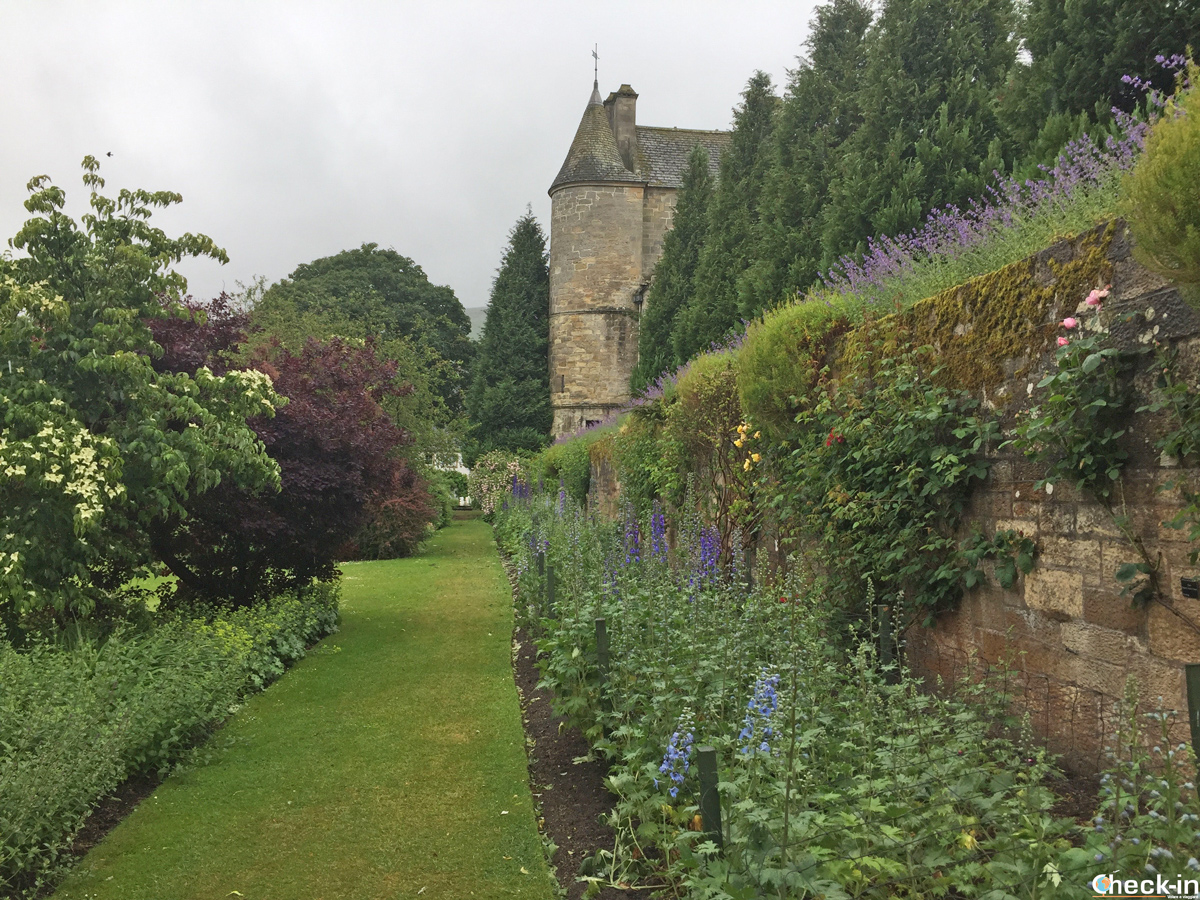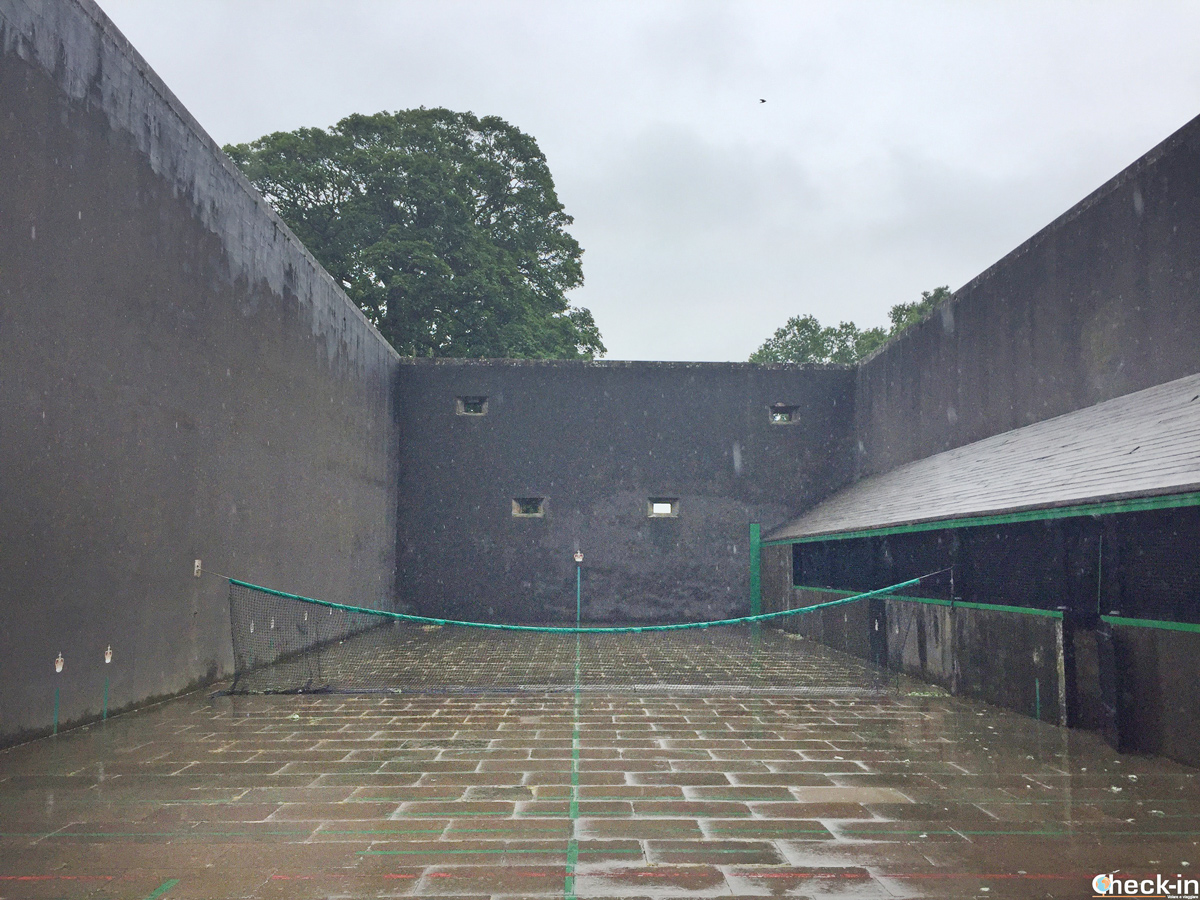 The opening times of Falkland Palace – from 1 March to 31 October – are the following:
Mon-Sat 11-17;
Sunday 12-17
The entry prices depend on if you want to visit just the gardens or the palace as well. Then, access is free for National Trust For Scotland Pass or Scottish Pass holders. Please note that photography is not allowed in the palace, only in the park.
To find out more about the best tourist passes for your holiday in Scotland, I recommend you to read the following article. It also includes the links to buy them online: https://checkinblog.it/en/best-tourist-pass-visit-edinburgh-scotland/.
High Street and Bruce Fountain
The High Street is Falkland's main street and runs along the Palace and its gardens. Falkland was declared "Royal Burgh" by James II in 1458 so from that year on the village was entitled to hold weekly markets as well as elect officers for justice.
The village offers amazing architectural sights thanks to the presence of houses and cottages from the 17th century that feature outside stairs, marriage lintels, crow-stepped gables and pantiled roofs.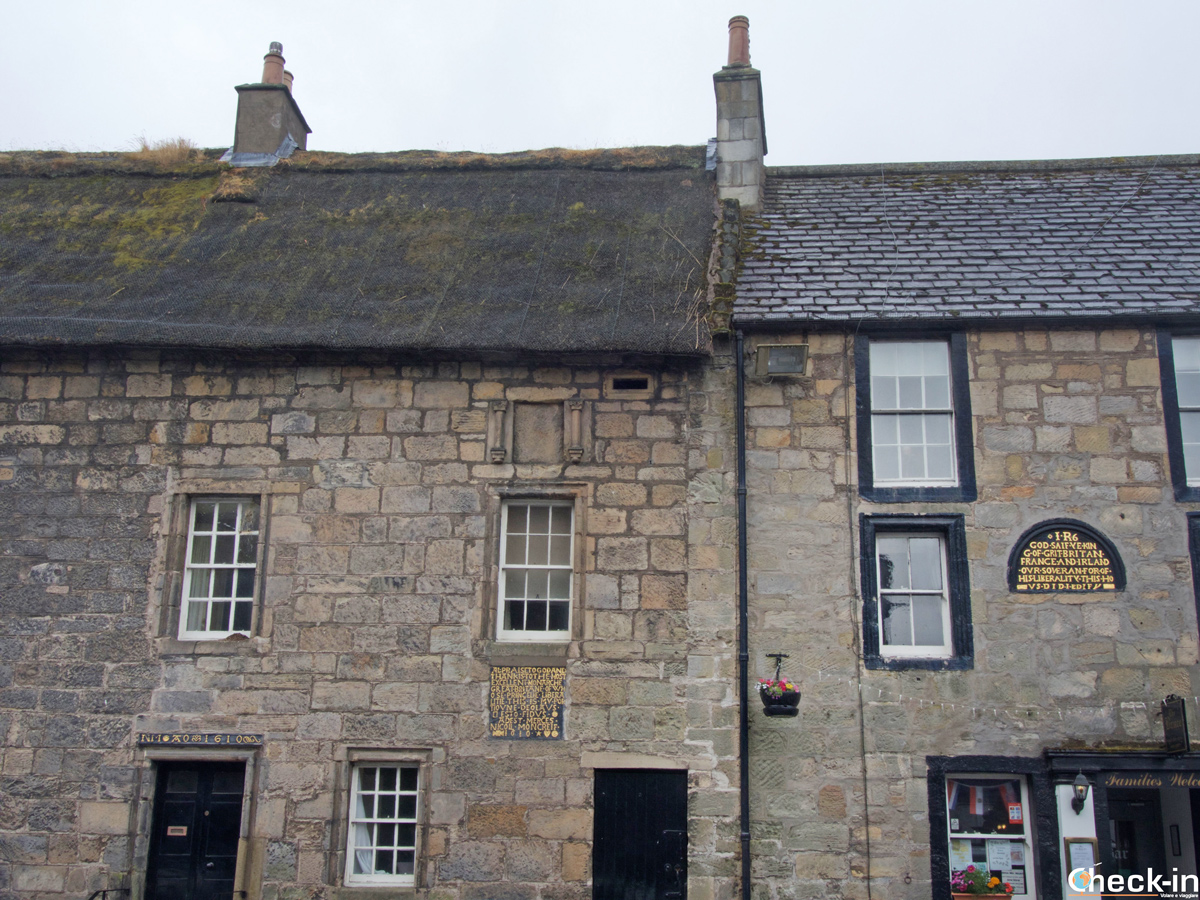 A short but lovely walk in the centre allows you to discover the long history of the village. Indeed, all the constructions show clear evidences of its royal, industrial and social background. Many places were restored across the 19th century and new buildings and monuments were erected, for example the iconic Bruce Fountain.
Falkland and Outlander
The village was featured in Outlander tv series season 1 to portray the city of Inverness. Claire and Frank come here in 1945 during their second honeymoon so it's the place where everything begins.
Walking along High Street it's easy to recognise some locations like the Covenanter Hotel, alias Mrs Baird's B&B, or the Bruce Fountain itself, where Jamie's ghost sees Claire outside her window. If you're interested in guided tours from Edinburgh and Glasgow focused on Outlander please check this website.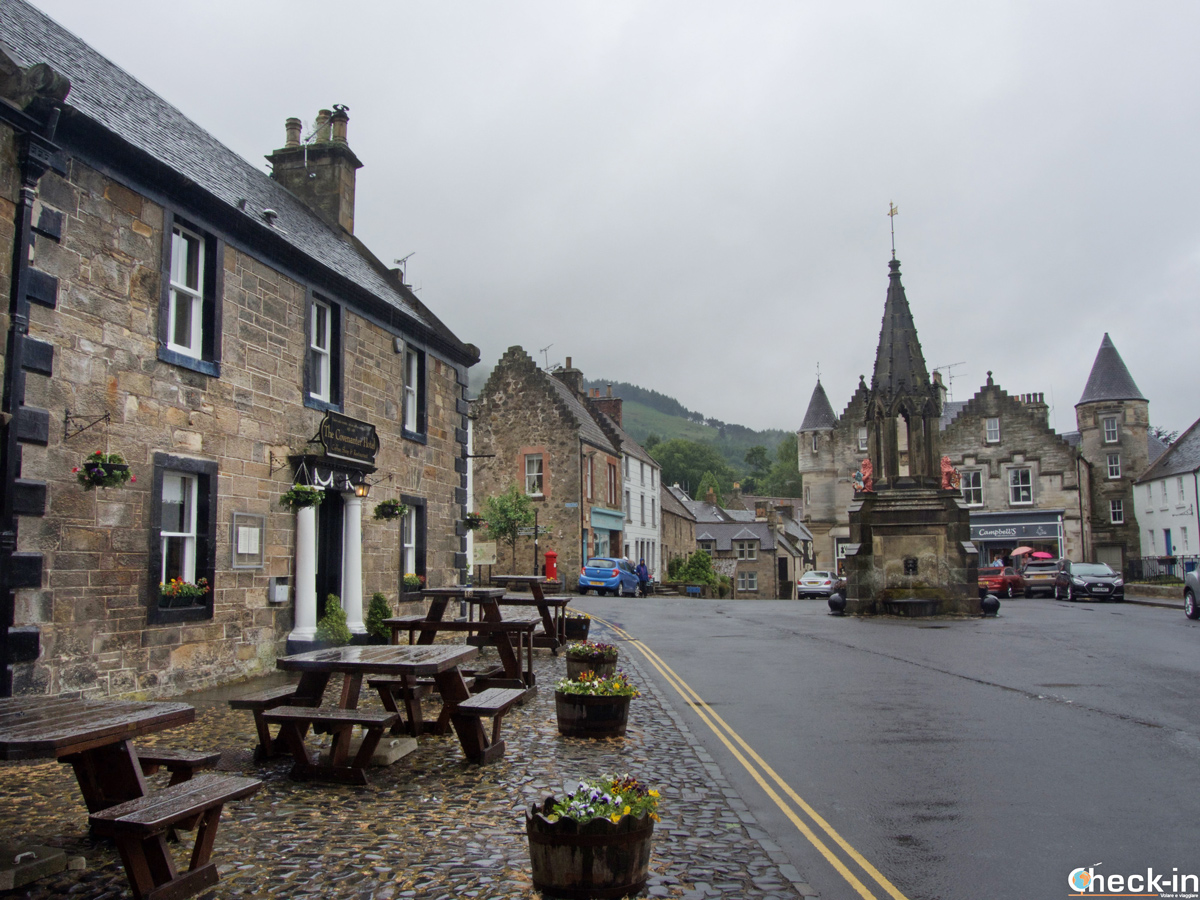 Falkland and some of its streets also appear in season 2. Brunton Street, Rotten Row and Sharps Close were used to represent Inverness in 1746. Exactly in Brunton Street there's the house – McGilvrey's Boarding House – where an ill Alex Randall stays while being cared for by Mary Hawkins. Cast and crew will be back in Falkland for the new season 4 so we just have to wait for the episodes..
How to reach Falkland by public transport
It's possible to reach Falkland by bus from Glenrothes Bus Stn. There're different bus services operated by Stagecoach – 64, 36, 64A and 66 – that connect the two towns. Tickets start from £3.50 and travel time is about 15-20 minutes.
The bus stop in Falkland is located near the Palace and just few steps away from the High Street.
In addition to that, some day and multi-day tours from Edinburgh include a visit in Falkland. To find out more about these activities please take a look at this page.
(Visited 3,905 times, 2 visits today)