Milan is the capital of Lombardy and the second-most populous city in Italy after Rome. It is a primary node in Italian and global economic network in different fields such as commerce, art, design, fashion, finance and of course tourism.
Indeed, Milan has museums and art galleries that include some of the most important collections in the world. Besides that, it will host the 2026 Winter Olympics together with Cortina d'Ampezzo.
The purpose of this article is to explain to future visitors how to reach the capital of Lombardy and then how to move around by public transport.
If you are looking for top attractions and activities in Milan please check this website as well as this specific article of the blog.
How to get to Milan
The city represents one of the key transport nodes of Italy and southern Europe, that means it is easily reachable both by land and air.
By car, motorcycle and camper
Motorways connect Milan to other Italian and international destinations. The most important are:
Autostrada A4, Turin to Trieste via Milan and Venice;
Autostrada A1, Milan to Naples via Bologna, Florence and Rome;
Autostrada A7, Milan to Genoa;
Autostrada A8, Milan to Varese;
Autostrada A9, Lainate (near Milan) to Switzerland via Como and Chiasso.
All of these are linked together by a ring road, which is formed by 3 tangenziali (A50, A51 and A52).
Please note that driving across the city centre may be quite difficult due to the high traffic congestion and the counter-measures that have been recently introduced. For this reason large car parks are available near the subway stations located close to the highway exits. For more informations click here.
Having said that, there are also lots of hotels with private parking in Milan.
By bus
Milan is connected to more than 200 Italian and international destinations with daily and nightly services operated by Flixbus.
The company has several bus stops, located across the Metropolitan Area:
Lampugnano bus station, the biggest one;
San Donato M3;
Stazione Centrale (Central Station), to/from Malpensa and Orio al Serio airports;
Cormano-Cusano Milanino, next to A4 highway exit.
More detailes, prices and timetable are available on Flixbus page.
By train
Milan is a pivotal hub for the regional, national and international rail network in northern Italy.
Trenord and Trenitalia operate the suburban and regional service, also including the cross-border Lombardy-Canton Ticino service and the Malpensa Express to/from the airport.
Some daily international destinations from Milan are Zurich, Basel, Montreux, Geneva, Paris, Lyon, Nice, Munich, Vienna and innsbruck.
Milan is also the main node for high-speed rail lines connecting cities such Turin, Venice, Bologna, Florence, Rome and Naples. Services are operated by Trenitalia and Italo.
The Central Station is Milan main railway station and the second one in Italy after Rome. Other important railway stations are Cadorna, Porta Garibaldi and Rogoredo.
To check and compare timetables, fares and to buy your travel tickets in advance please visit this website.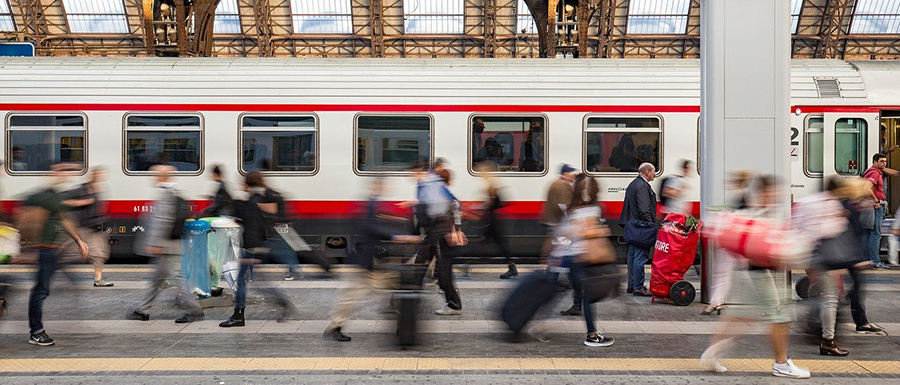 By plane
The capital of Lombardy is served by 3 airports which ensure daily domestic and international connections.
Malpensa Airport
This is the biggest in northern Italy and it is situated 49 Km northwest of central Milan. In its 2 terminals operate both low cost airlines (especially Easyjet) and traditional ones.
To travel between Malpensa Airport and Milan city centre you have two opportunities. The Malpensa Express is a rail link service from T1 and T2 to Milan Central Station via Cadorna and Porta Garibaldi train stations. Journey time is around 50 minutes.
Otherwise, shuttle bus services run between the 2 terminals and Milan Central Station every 20-30' and travel time is about one hour. You can buy your ticket here, it is valid for any ride on the day booked whilst free cancellation is available up to 24 hours in advance.
Linate Airport 
This is the Milan city airport, located just 7 Km east of the centre. It is mainly used for domestic and european traffic with flights operated by several national airlines.
You can easily get to Linate Airport taking the urban bus n. 73 from Duomo or by shuttle bus services from Milan Central Station.
Orio al Serio Airport
Located in Bergamo, 45 Km north-east of Milan, it is used mainly by low cost airlines (especially Ryanair).
The airport is well-connected to the centre of Milan by shuttle bus services to/from the railway Central Station (Milano Stazione Centrale). Tickets can be purchased in advance, they are valid one day and free cancellation is available as well. For all information and online tickets visit this website.
How to explore Milan by public transport
As I previously said, driving in Milan is definitely not the best option to choose. Do not worry, the public transport network is really efficient as it allows visitors to explore the city centre as well as the entire metropolitan area with no troubles.
The Milan Metro consists of 4 lines and it serves 113 underground stations. Among these, the most relevant for tourists are Centrale FS (Milan Central Station, M2-M3), Porta Garibaldi FS (M2-M5), San Babila (M1), Duomo (M1-M3), Montenapoleone (M3), Lanza (M2) and Conciliazione (M1).
Then, there are 67 bus and 4 trolleybus lines covering the entire metropolitan area, including some night bus services that run during weekends.
The public transport system includes 17 urban tram lines and 1 interurban line. Trams in Milan run since 1876, with a horse driven line tram. In 1878 the first steam powered service was introduced and by 1901 all the lines were electric powered. Many of the vehicles still used today – and of course fully restored – are the famous Class 1500 streetcars, which were firstly launched in the 1920s.
Last but not least, Milan and its greater metropolitan area is also served by 12 suburban rail lines.
Full information regarding network map, timetables and travel fares are available on ATM page.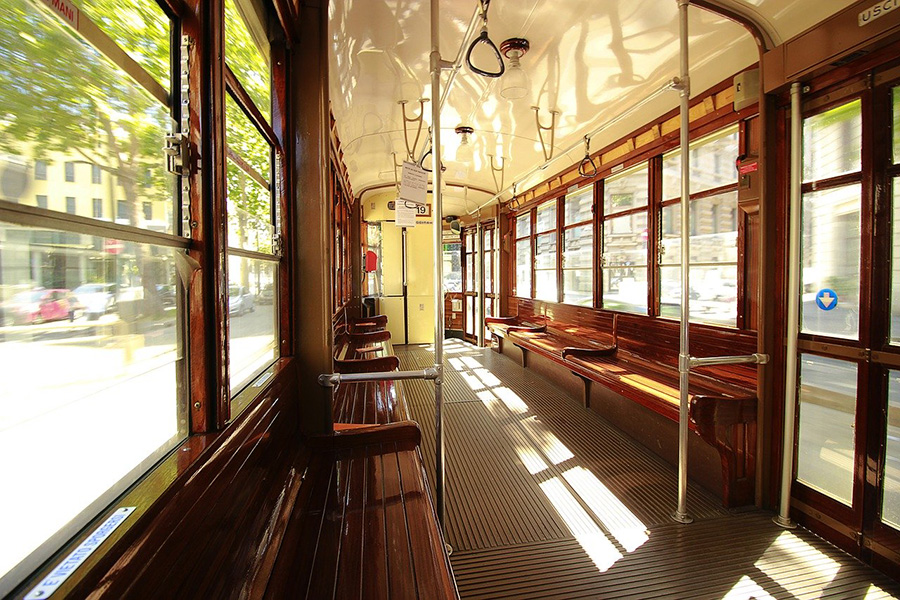 How to save time and money thanks to the Milan Pass
This tourist card includes attractions and unlimited use of public transport so it is definitely the best choice for your stay in Milan.
It is valid for 48 hours since when it is used for the first time, no matter where or for which reason (in a museum, a shop or on public transport).
The Milan Pass gives you free entrance to some of the most famous places of interest:
Duomo
Teatro alla Scala
Pinacoteca di Brera
Pinacoteca Ambrosiana
Highline Galleria
National Museum of Science and Technology
San Siro stadium tour
Leonardo3: "The World of Leonardo da Vinci"
Leonardo da Vinci's Vineyard
Bagatti Valsecchi Museum
Museum of Art and Science
A city map, day-tours and discounts are included as well. Concerning the public transport, Milan Pass holders have 2 options available and prices change depending on the choice:
Milan Pass + sightseeing bus OR public transport, 79€ (adult), 29€ (children 4-11);
Milan Pass + sightseeing bus AND public transport, 89€ (adult), 29€ (children 4-11).
In both cases cards are valid 48 hours and are free for children under 4 years old.
To get more details about Milan Pass, its free cancellation policy and to book it advance please visit this page.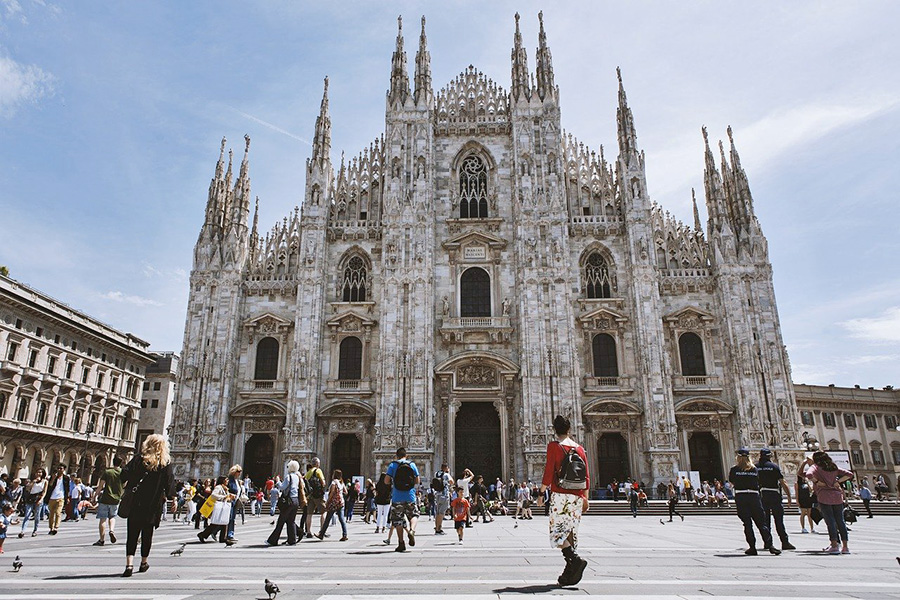 Explore Milan on Hop-on Hop-off bus tours
As in the top visited cities in the world, the open-top Hop-on Hop-off buses run also in Milan. Here there are 4 lines that allow tourists to quickly reach different areas of the metropolitan area and its most important places of interest.
Buses run every 45 minutes and, once on board, visitors can enjoy free WiFi and audio commentaries in 8 languages. Tickets are valid for 24-48-72 hours, cancellation is free up to 24 hours in advance.
All information about full routes, prices and online purchase are available at this link.
(Visited 263 times, 1 visits today)